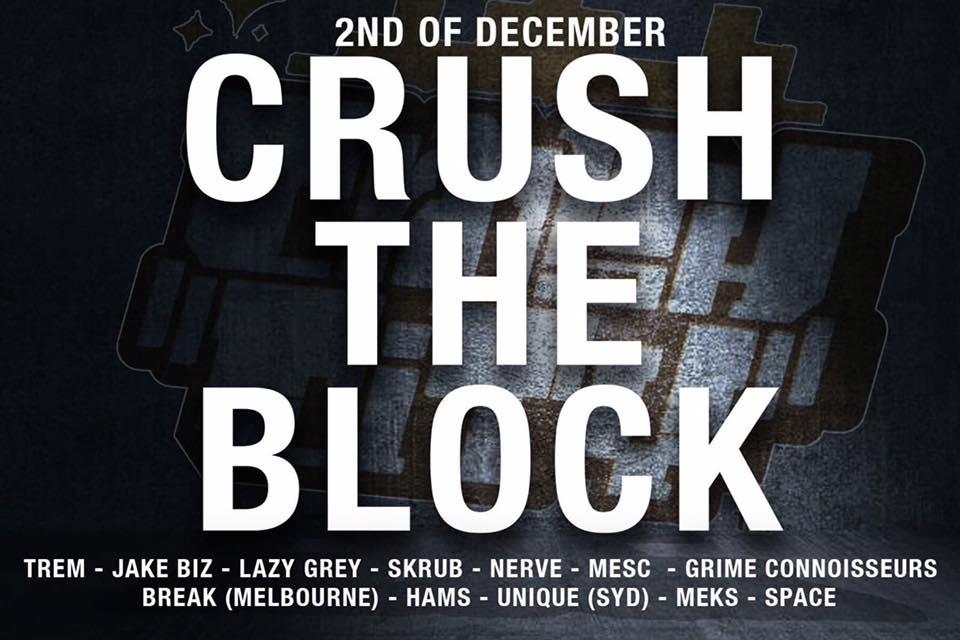 [caption id="attachment_4022" align="alignnone" width="960"]
CrushTheBlock2017[/caption]
Crush City proudly presents our ALL AGES Summer Block Party - CRUSH THE BLOCK.
Saturday the 2nd of December. $10 ENTRY AT THE DOOR!
LIVE PAINTING STARTING FROM 11:00am
LIVE DJ SETS AND RAPPING FROM 2:30pm
TREM ONE - (DJ SET)
LAZY GREY - (RAP)
JAKE BIZ - (DJ & RAP)
SKRUB - (RAP)
NERVE - (RAP)
MESC - (RAP)
GRIME CONNOISSEURS - (RAP)
BREAK - (GRAFFITI)
UNIQUE - (GRAFFITI)
HAMS - (GRAFFITI)
MEKS - (GRAFFITI)
SPACE - (GRAFFITI)
It's the freshest line-up Brisbane has seen in a long time! So make sure you don't miss it! Come down and help us CRUSH THE BLOCK!