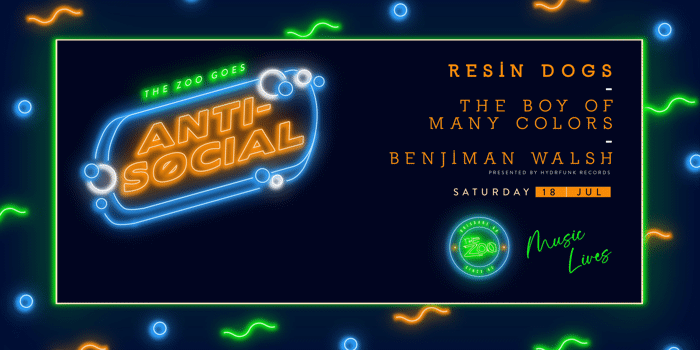 SESSIONS HAVE BEEN MERGED
This will allow for longer set times and more time in the venue!
WELCOME BACK LIVE MUSIC!
Grab your ticket and help keep your local artists and venues alive.
The launch of The Zoo's Anti-Social seriesis centred around embracing change and adapting to new thought process while focusing on and supporting local and grassroots artists.
We are stoked to announce
RESIN DOGS
Supported by
The Boy Of Many Colors & Benjamin Walsh
Doors 7.00pm
SET TIMES
7:45pm - 8:15pm: The Boy of Many Colors
8:45pm - 9:25pm Benjiman Walsh
9:55pm - 10:55pm: RESIN DOGS
LIMITED TO 100 TICKETS SO GET IN QUICK
**** If you are planning on coming in a group of 4 or more, please arrive at the same time so you can be wrist-banded as a group ***
​​​​​​​Tickets prices are broken down into two parts -
1. The Ticket Price
All money from tickets go directly to the artists.
2. The $40 Minimum Venue Spend
While the capacity of venues remains restricted to 100 people, implementing a minimum spend within the venue affords a small security blanket for the venue and all its employees to be able to open the doors.
$40 of venue credits will be given to ticket holders at the door upon entry
These credits will entitle each ticket holder to a redemption in the venue on the night.
Venue credits can be used for alcoholic & non alcoholic beverages and zoo crew merch.
SAFETY
At all times we will be working within approved COVID SAFE PLANS, Restrictions & guidelines, while trying to preserve an authentic live music experience.
For concerns or queries on safety please reach out to the venue direct for information on our COVID SAFE PLANS and measures for ticket holders, artists and staff.
Tickets - https://zoo.oztix.com.au/