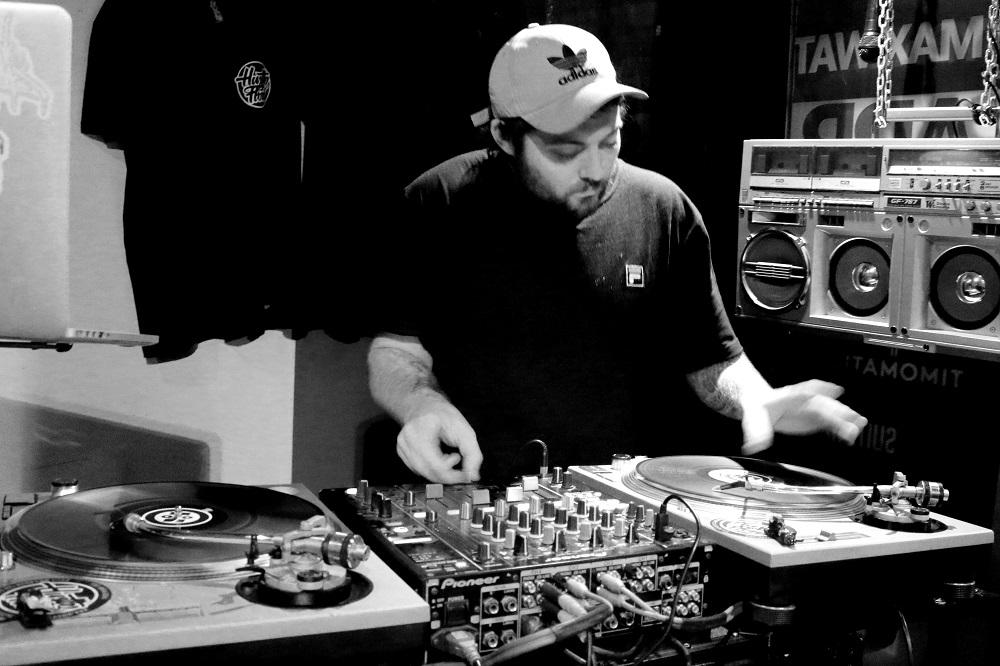 Gig Review: Helix - Helical Projections E.P Sydney Launch
If you were on the South Coast back around 2012 then you already know who Helix is, known as the 'go to' turntablist for underground hip hop shows in Wollongong and a huge supporter of the scene. If you're new to his work then no doubt the last two years have been huge for him as a producer and beat maker working with some top notch emcees from Wollongong, Kangaroo Valley, Sydney, the U.K, Paris and The Blue Mountains.
This brings us to the launch of his E.P 'Helical Projections' at Rock The Block in Redfern on Wednesday 29th of August 2018.
Rock The Block is one of Sydney's finest showcases for emcees hosted by Izzy and Mumbles at Hustle & Flow Bar. A humble gathering at first glance this night never fails to build into one massive cypher in which all audience members are invited to freestyle live on stage with a classic 'pass the mic' style. The walls are plastered with artwork depicting some of hip hop's pioneers as well as posters of the many local artists that have blessed the stage at its many different nights including beat battles and improv jams with live bands.
Izzy holds it down as one of the most respected freestyle emcees in Sydney and as usual him and Mumbles opened the mic up almost immediately to an audience of young, old, experienced and up and coming emcees to freestyle and jam while Helix held it down on the turntables. Styles were as varied as the beats and the vibe was hype as the venue filled close to capacity with known heads such as Terabyte, P.Smurf from Big Village, Oakbridge from the legendary Krosswerdz crew, Docile from The 3G Network, GhostAttack, a surprise visit from L.A artist Propaganda, as well as many new faces keen to get involved on the positive tip of collaborative hip hop culture.
Deadbeats played a live set and absolutely smashed the stage with their grown man flavour of hip hop. Flexing dope beats, wicked lyrical styles and impressive vocal skill this crew took me back to my roots and for a moment I felt like I was back in the early nineties of Australian hip hop. I cannot overstate how in the pocket these guys were on stage and the response was appropriately positive from the packed room of heads.
When Helix took over the stage he brought a solid crew with him including Keggles, O-Menace, Hammy from Otherside and Jumbusta from The 3G Network, and as usual he took his turn away from the turntables to spit a verse which was deep and rich with imagery and knowledge.
"With ain't no concerns dude, this whole crew will murk you, who knows is set to spread the illness like germs do, we spore from the underground like blue mountain fungus but our speech is above yas like bird calls in jungles."
Helix's set was a dope showcase of the music he's been creating, his skills as a turntablist and a solid cypher DJ and the many dope artists he works with. His music is murky, it's deep, its intellectual, philosophical and metaphorical. The bar was set high and the heads took it all in.
Nobody had beef, nobody was disrespectful to the venue, there were no fights or vandalism, only what I've come to expect from Rock The Block, a dope night reflecting the culture of Sydney hip hop.
At the end of the night merch was sold, almost everyone was wearing the new Otherside hoodies and Helix sold enough CDs to get petrol for his return to the lab.
At a time when it seems music venues and hip hop shows alike are dwindling it's evenings like this that remind you of how strong the scene truly is, in a crowd spanning literal generations where artists can work alongside each other and express themselves in an noncompetitive way.
If you are an emcee who wants to meet like-minded people and work together live, or if you are an appreciator of hip hop and want to immerse yourself in the culture, by coming to Rock The Block you can rest assured of one thing, that hip hop in Sydney is alive and well.
Helical Projections is produced by Helix featuring artists Kropsman, Jumbusta, Sean Peng from Spilt Prophets, Carlos The Jakl from Ivy Mics, Illtoff, Keggles from The Regime and Aslan from Twelve Jewels. The album was engineered by the well respected T.Kabanov (Caustic Yoda) for Cooking With Caustic Productions. Helix is a member of the Who Knows crew, a large hip hop collaborative that is taking over both the mountains and the city.
The album Helical Projections is available here.
Rock The Block is on every second Wednesday here.
You can watch highlights from the cypher below!
Words By Mighty Ash