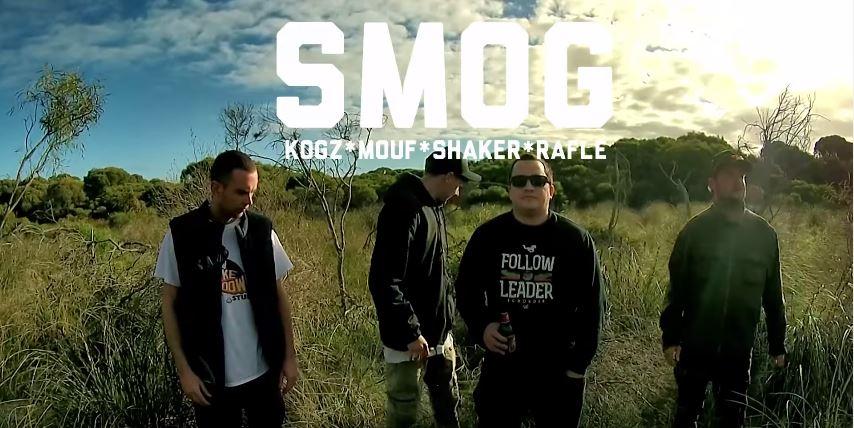 To coincide with the release of their brand new self-titled album, Smog (Kogz, Matt Rafle, Rob Shaker, Maggot Mouf) have just put out a brand new clip titled dippin, shot by Shaker, featuring Maggot Mouf and Kogz dropping heavy bars on a dizzying hypnotic beat, also produced by Matt Rafle.
We caught up with Shaker and Maggot Mouf for a quick chat.
What can we expect from the new album?
Rob Shaker: The albums pretty well described by its name really.. "smog". I'd describe it as a mixture of dark, gloomy beats and some boom bap bangers with some pretty raw lyrics from Kogz and Mouf. Some of the tracks are a bit out there, some are pretty topical and relevant, some comical, some political. all kinds of shit really, but with a distinct smoggy sinister vibe.
Maggot Mouf: Smog album is us 4 having fun in the studio. Kogz n me were just guna do a single then we worked on ep then everything came together so well we kept going n before we knew it had an album worth. Us 4 were all on the same level the dippin clip pretty much sums up the vibe of the album. Having some on bangin beats with some deep lyrics here n there.
Can you tell us a bit about the new video Dippin?
Rob Shaker: The track Dippin is about a mysterious weather phenomenon that happens once every so often caused by an excess build up of wack rappers in the atmosphere, a thick cloud of mist engulfs them, often never to be seen again.
Inhale weak rappers, exhale smog clouds! You're fucking up the scene best believe that it's not allowed.
Peep the brand new video Smog - Dippin Below.
Keep up to date with Smog via the link below.