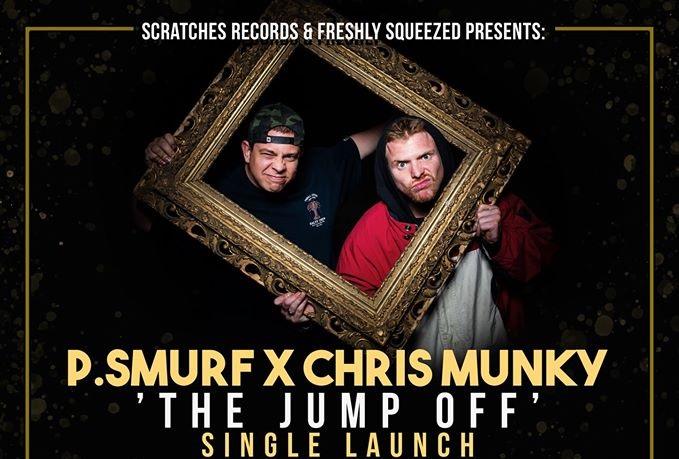 P.Smurf X Chris Munky
- Jannah Beth
- DJ Cost
- VJ Spook
+ Special guests +
Hosted by Rivals
PRE-BOOKED TIX ONLY - NO DOOR SALES
/// ONLY 100 TIX AVAILABLE ///
Get ready for 'The Jump Off' single launch!! Scratches Records & Freshly Squeezed present an intimate night with local legend P.Smurf and veteran UK born producer/DJ Chris Munky. Ready to supply you with some positive vibes during these ominous times.
Featuring live support from the soulful Sydney songstress Jannah Beth, 3 x NSW DMC champion DJ Cost, plus an array of stunning visual displays from the legendary VJ Spook.
Don't miss your chance to be involved in this incredibly special event. 2 exclusive shows, seated upstairs in the iconic Lansdowne Hotel, strictly limited to 50 per sitting.
Big thanks to our sponsors for all their continued support - Golden Robot Records, 567 King, Undefine Media, Union Heights, The Stitch Up Sydney, OZHIPHOPSHOP, The Craze Co & 4Elements HipHop Project - 4ESydney
The venue will be taking a number of precautionary measures to ensure patron safety, including:
- Hand sanitiser dispensers
- Signage and social distancing markers throughout the venue
- Regular sanitising of the venue and facilities
THE JUMP OFF
Renowned Sydney based MC and Scratches Records label manager P.Smurf, teams up with the highly seasoned, multi skilled UK born producer/DJ Chris Munky, to bring you the uplifting, fast paced, sun drenched banger, 'The Jump Off'.
With his signature bass heavy production, Chris Munky
combines elements of Hip Hop, soul, funk and house, to create the perfect canvas for Smurf's trademark rapid fire flows. 'The Jump Off' relentlessly pulls you along on an uplifting, fast-paced journey, urging the listener to get up, get busy and start making some moves.
Combining the cross-continental talent and experience of two stalwarts of the game, this collaborative production is also the first vinyl release on Scratches Records, with a limited edition run of 150 units, available to pre-order now.
Featuring a bonus B-Side aptly titled 'Big Bass', P.Smurf & Chris Munky demonstrate their ability to get the party pumping. With a high energy live show incorporating influences of Grime, DnB, Jungle, Dubstep & Hip Hop, the pair glide seamlessly between styles, both on and off the stage.
Grab a copy of the vinyl, or stream/download at WWW.SCRATCHESRECORDS.COM