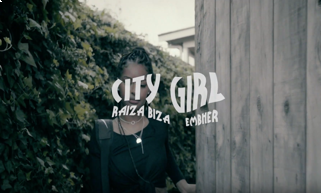 Raiza Biza Shares Slick Visuals For 'City Girl'
NEW ZEALAND TOUR KICKS OFF
FRIDAY 1 NOVEMBER - NECK OF THE WOODS, AUCKLAND
Ahead of his extensive New Zealand album tour, Raiza Biza shares slick visuals for 'City Girl', directed and created by long-time collaborator Connor Pritchard. The uptempo track features the honey-dewed vocal tones of Embher, over a hard-hitting dancefloor pulse.
Undoubtedly one of the most anticipated local releases this year, the Rwandan-kiwi rapper released his new album Bygones on October 4th via Low Key Source. A hypnotic culmination of hundreds of hard drive demos, the nine track record features cameo appearances from Sudanese-American rapper/producer extraordinaire Oddisee, along with AmmoNation collaborators Blaze the Emperor, Embher and producer VULC and more.
Biza's new material follows a new sound arch, finding inspiration in the deeply written metaphors of the Marvin Gaye-era soul and the heart-hitting rhythms of 1970's funk. Binding his grounding in socially conscious thought and observational storytelling, Biza studies the human condition and the world around us. Though this time, he admits, the record finds the balance between fun and seriousness. Rather than be ruled by the lyrics, the music plays an emotive part.
He tells the angles of the human condition through high octane moments, the party life, through to the low, self-reflective moments found in tracks like 'Stolen Youth' and 'Trouble' where he teams up with Oddisee and Zenyth. Both tracks have gone onto become student radio network hits, sitting in the top 10 of the Radioscope Alternative Airplay chart in New Zealand for consecutive weeks.
Watch Raiza Biza - City Girl (feat. Embher) Below!