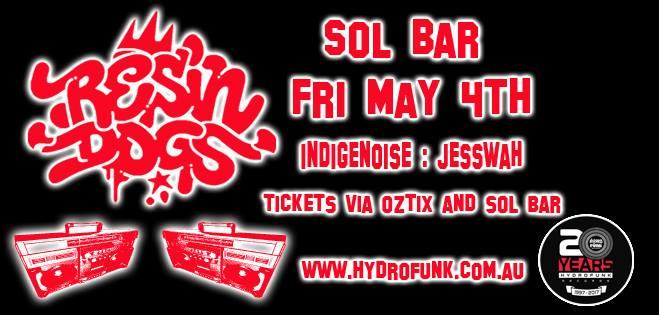 Resin Dogs Ft Indigenoise & Jesswah Live at Sol Bar!
Resin Dogs Ft Indigenoise & Jesswah Live at Sol Bar!
Australian live hip hop and party starters Resin Dogs return for a one off night bringing that feel good hip hop that they are renown for. These guys have legendary status throughout the Australian music community and were the go to band for every festival in the early 2000s which won them numerous awards for best live act in the country.
Resin Dogs have been secretly working away on a new record and decided to do a little test drive of some new and some old classics for this show.
Joining them will be INDIGENOISE from Byron Bay.
Dropping a raw and organic imprint of hip hop infused with their inspired conscious lyrics. On stage they empower the individual, standing united as indigenous youth and beyond. Dominating the mass consciousness with their gift of music, traditional ceremony and dance.
Also joining the line up local legend Jesswah.
Jesswah is an inter dimensional time travelling being currently here to make beats for your body's pleasure ~ bringing his style of Beats Bass and Hip Hop Jesswah will be joined by some special guests for a live performance on the night
Resin Dogg Tickets available here!
Address:
Solbar
10 / 12 - 20 Ocean Street, Maroochydore, Queensland 4558